While some boast a star-studded line-up, others make you fall in love with undiscovered gems at the many music festivals in Australia. From drum & bass, electronic dance music, and psychedelic trance to indie, indie pop, rock, afro beats, it caters to everyone! Get ready to party, indulge in mind-blowing music, and check out the activities and wellness programs these festivals offer.
From Juicy Fest to Splendour in The Grass, find the list of the best music festivals you can attend in Australia in 2023-24:
Juicy Fest
When: January 12, 13, 14, 19, and 20, 2024
Where: Melbourne, Sydney, Perth, Adelaide, and Gold Coast
Juicy Fest has roped in renowned R&B and hip-hop stars Ashanti, rappers T.I., T-Pain, and The Game, and contemporary R&B singer-songwriter Trey Songz for its colossal 2024 tour. MA$E, hip-hop group Bone Thugs-N-Harmony, R&B singer-songwriter Keri Hilson, rapper Fabolous, and 'Let Me Love You' hitmaker Mario have also been tapped for Juicy Fest!
This tour kicks off on January 3 with four stops in New Zealand, while the Australian leg of the tour commences on January 12 at the Melbourne Showgrounds, with stops in Sydney (January 13), Perth (January 14), and Adelaide (January 19), before the final date of Juicy Fest on January 20 in Gold Coast. You don't want to miss this opportunity to feel nostalgic by enjoying performances from the stars of the '90s and 2000s!
Get tickets for Juicy Fest from The Ticket Fairy: HERE
The tickets for the Australian leg of Juicy Fest: Melbourne | Perth | Adelaide | Gold Coast
Visit the Juicy Fest website: HERE
Juicy Fest on: Instagram
Jammin Festival
When: February 3 – 4, 2024
Where: Gold Coast and Sydney
A huge celebration of reggae music is coming to Australia, with reggae and dancehall heavyweights flocking to Sydney and the Gold Coast for two days from February 3 – 4 next year at Jammin Festival. With a number of international artists and reggae superstars on the line-up, Jammin 2024 is an unmissable multi-city festival. Grammy-winning star Sean Paul and English reggae and pop band UB40 will be headlining Jammin Festival 2024!
The daily line-up of the festival will alternate between Sydney and the Gold Coast. Both cities will catch performances from some of the most renowned reggae artists. Big names like Wyclef Jean, the iconic reggae musician Bob Marley's son Julian Marley, Fiji, Maoli, and reggae singer-songwriter J Boog have been booked to perform at Jammin Festival next year, along with Pia Mia and New Zealand reggae band Sons of Zion.
First Release tickets have SOLD OUT! Get tickets for Jammin Festival from The Ticket Fairy: Gold Coast | Sydney
Visit the Jammin Festival 2024 website: HERE
Jammin Australia on: Instagram
Beyond The Valley
When: December 28, 2023 – January 1, 2024
Where: Hesse, Victoria
Beyond The Valley is a massive New Year's festival held in Hesse, Victoria. This four-day celebration of music, arts, and camping is scheduled for December 28, 2023, to January 1, 2024. Beyond The Valley welcomes both international and local talents to display their skills across three stages – Dr Dan's, Valley Stage, and Dance Dome. RÜFÜS DU SOL, South Korean DJ/producer Peggy Gou, and British rapper Central Cee will be en route to Barunah Plains Homestead for Beyond The Valley 2023.
Australian indie rock band The Jungle Giants, Kelis, rock band DMA's, Australian singer-songwriter, producer and drummer G Flip, rapper Destroy Lonely, and Australian house producer Mall Grab will grace this festival stage. Canadian house music producer and DJ Jayda G, Australian EDM producer Luude, Channel Tres, Boo Seeka, and Cassian, among many other thrilling acts, are also on the line-up.
VIP upgrade to this festival offers an exclusive area featuring lush lounges, a private cocktail bar, and private toilets. If you need a break from the music, join in a discussion or a conversation about a variety of topics at the Podcast stage. A range of workshops and activities are available at The Sanctuary, with options to do yoga, sound healing, immersive theater, meditation, and more. There is also a Ferris wheel within the main arena.
Find Beyond The Valley on: Instagram | Website
Subtropics Festival 2023
When: September 22 – 24, 2023
Where: Base Backpackers Magnetic Island, Magnetic Island
Subtropics is a three-day drum & bass, UKG, hip-hop, dubstep, reggae, and dub music festival that returns to Australia this September. The 2023 edition of the festival will be held from September 22 – 24 at Base Backpackers in Magnetic Island, Australia, with international headliners, three stages of music, pool parties, boat parties, watersports, live art demonstrations, and lots more. This venue has a fully serviced bistro and bar, cabins, clean toilets and showers, camping and kitchen available to give you the complete music festival experience.
Iconic drum & bass DJ Mampi Swift, DnB producer from the UK Conrad Subs, drum & bass trio Sola, Royalston, Skool of Thought, and more will head to the magnificent Magnetic Island for this festival. Subtropics 2023 is also set to host the likes of Australian DJ Kid Kenobi, Sose, Brisbane DnB producer Sal, DJ Lickweed, Soul:Motion, and more. Enjoy the cool breeze, walk on the sandy beach under the palm stress and move to the music coming from some of the finest acts on the planet.
For more information about the Subtropics Festival, click: HERE
1 Day, 2 Day, and 3 Day Event Day Passes and Stay and Play Pass for 8 Person Cabin, 6 Person Cabin, and Camping Pass for Subtropics Festival 2023 are up for grabs at The Ticket Fairy: HERE
Find Subtropics Festival on Instagram: HERE
Mushroom Valley Festival
When: September 15 – 17, 2023
Where: Yalboroo, Queensland
Mushroom Valley Festival is a wonderful weekend getaway from life's everyday worries! The three-day festival offers music from a variety of genres, including tech house, psytrance, drum & bass, dubstep, progressive trance, breaks, bass music, and more! Homegrown talents as well as the hottest acts are set to appear on the Mushroom Valley stage this year.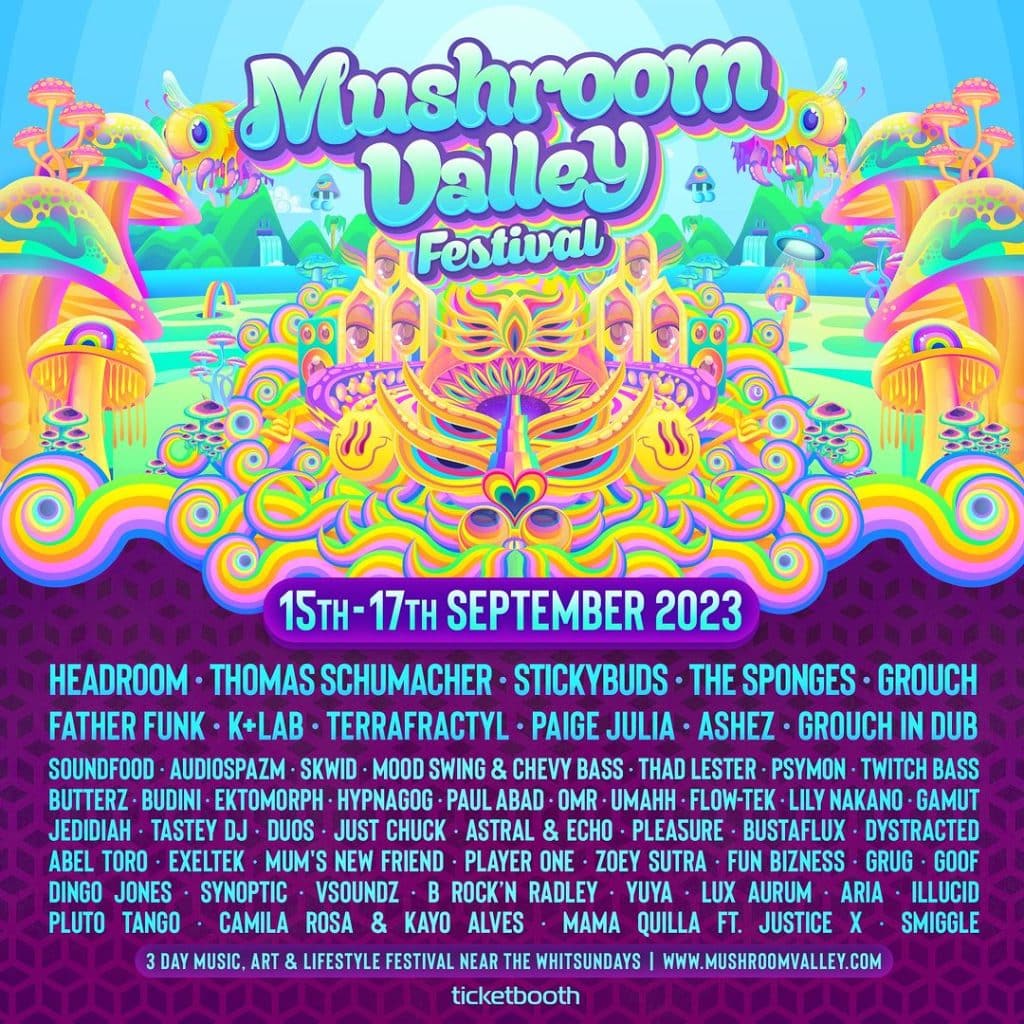 German techno DJ/producer Thomas Schumacher, bass music artist Paige Julia, electronic band Grouch in Dub, Headroom, Father Funk, K-Lab, and more will be on their way to Mushroom Valley this month, along with Psymon, FLOW-TEK, Bustaflux, Exeltek, Illucid, and Pluto Tango.
Mushroom Valley Festival: Website | Instagram
Earth Frequency Festival
When: May 3 – 6, 2024
Where: Ipswich, Queensland
The thrilling Earth Frequency Festival returns to Australia from May 3 – 6 next year! The music, arts, lifestyle, and environment festival offers a wide range of music genres you can enjoy for four days. They include bass music, hip-hop, techno, dubstep, down-tempo, reggae, house, progressive trance, psytrance, folk, world music, and more from DJs, producers, and bands.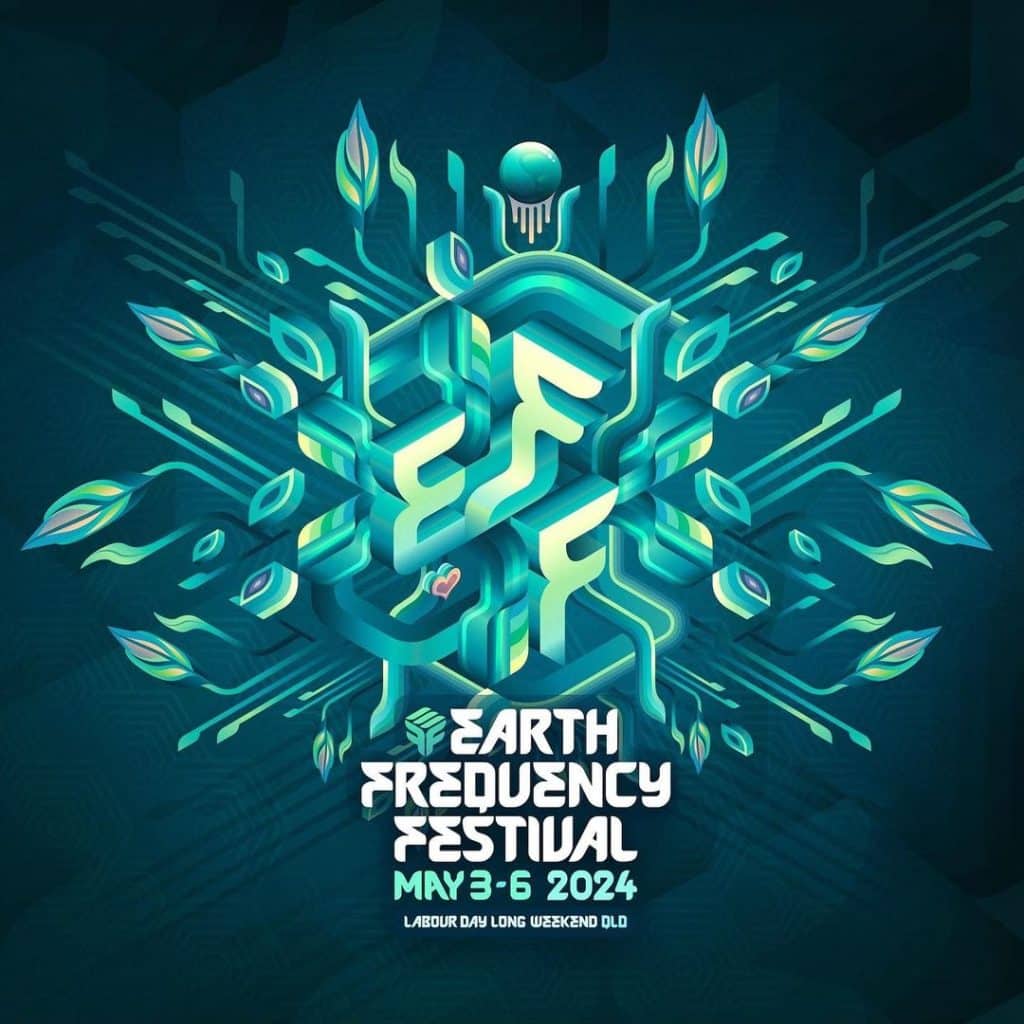 You can also step away from the music and immerse yourself in activities, wellness programs, workshops, listen to speakers, and lots more! Attendees can also let loose and get a massage or leave this festival with a new life skill. There will also be performance art, art, fire dance, creative installations, and video art, Don't forget to visit the Market Stalls, a place for those interested in fashion, craft, jewelry, and art! You can also get quality, healthy food and drinks. The line-up for this festival is yet to be announced.
Earth Frequency Festival: Website | Instagram
Afro-Latin Dance Festival
When: October 6 – 8, 2023
Where: Broadbeach Waters, Queensland
Brace yourself for the Afro-Latin Dance Festival, scheduled to take place from October 6 – 8 at the Broadbeach Cultural Centre in Broadbeach Waters, Queensland. Attendees will be filled with the exhilarating energy of this open festival in October. Your experience at the Afro-Latin Dance Festival will include live music, enthralling shows, workshops in various dance styles, mouth-watering Latin food, exciting dance competitions, and more.
Dancers and instructors from all over the country and the world will assemble at the Afro-Latin Dance Festival in October. This festival offers beginner boot camp "Latin Dance Kickstarter" workshops in bachata, zouk, salsa, kizomba, and more, and performance boot camp "Be A Star." You can partake in the dance competition, enjoy the circus-style showcase, and witness the grace, creativity, and charm of Afro-Latin dance styles from professionals.
Join the waiting list to get tickets for the Afro-Latin Dance Festival via The Ticket Fairy: HERE
Splendour in The Grass
When: TBA
Where: Yelgun, New South Wales
Splendour in The Grass brings some of the most renowned artists to Australia! This year, the festival saw Lizzo, Grammy-winning Australian DJ/producer Flume, and Mumford & Sons as headliners. Colombian singer J Balvin, 070 Shake, rapper and singer-songwriter Danny Brown, and alternative psychedelic rock band Ocean Alley were among the performers of the 2023 festival on Day 1. Splendour in The Grass was held from July 21 – 23 at Ngarindjin/North Byron Parklands.
Day 2 saw English singer-songwriter Sam Fender, indie rock band Yeah Yeah Yeahs, English singer-songwriter Arlo Parks, and British-Nigerian rapper and singer Little Simz, among others take the festival stage. 'Habits' hitmaker Tove Lo, hip hop group Hilltop Hoods, British rock band Idles, and duo 100 gecs were on the line-up for the final day of Splendour in The Grass.
Attendees can find massage therapists, local designers, tarot readers, circus comedy, healers, performance art, sound therapy, cabaret, and lots more at the festival's Global Village. You can also visit the dance workshops and comedy clubs, and check out some amazing art along with delicious food and drinks.
Splendour in The Grass: Website | Instagram
Sounds of Afrobeats Festival
When: November 18, 2023
Where: Watson's EQ, Moore Park
Sounds of Afrobeats Festival, the biggest Afrobeats festival in Australia, returns to New South Wales on November 18! Running from 2 PM – 10 PM, this is a celebration of African culture "through music, dance, live performances and food stalls." The Sounds of Afrobeats Festival offers a diverse fusion of African and global beats. Prepare yourself to let loose and dance to afrobeats, soca, baile funk, amapiano, and more. Dig into the delicious grilled meats, stews, rice dishes and more at the food stalls that have been curated to "capture the essence of African culinary traditions."
Move your body to the music of DJ Fasmwa, Kimani, Sydney-based singer-songwriter and producer E.T Le Createur, DJ/producer, and radio host Kristelle, and DJ/producer SQUAT, DJ/producer K Time, Salem, DJ Gabu, DJ and radio host CMJ, and Ovo, with CHANJE on hosting duties at Sounds of Afrobeats Festival.
EARLY BIRD tickets are sold out! Get Entry before 4 PM and General Admission tickets for Sounds of Afrobeats Festival from The Ticket Fairy: HERE
Sounds of Afrobeats Festival on: Instagram
Return to Rio
When: October 27 – 29, 2023
Where: Webbs Creek, New South Wales
Return to Rio is set to throw a thrilling Halloween party this October at Del Rio Riverside Resort! So, start planning your spooky fits and putting together a scary look! You can chill by the pool, sip on some wonderful cocktails, and listen to mind-blowing music. Del Rio Riverside Resort will open its doors to Danny Bonnich, UK-born DJ/producer Samantha Loveridge, Karl Pilbrow, Lisbon-based DJ/producer Patrice Bäumel, and American DJ Mark Farina. The venue also offers a waterpark, clubhouse, golf course, volleyball, and tennis courts for those interested!
Return to Rio on: Instagram
Zenith Gathering 2023
When: November 24 – 26, 2023
Where: Mudgee, New South Wales
Australia is all set to host Zenith Gathering 2023 this November! Taking place from November 24 – 26 in Mudgee, New South Wales, Zenith Gathering boasts a delectable line-up of headliners and local artists for this year's edition. Headliners and psychedelic trance and progressive trance DJs/producers Captain Hook and Ace Ventura will put on a three-hour set each at the festival.
Other artists on the headlining roster include psychedelic artist and Sangoma Records label-head Emiel, Moscow-based psychedelic trance DJ Fungus Funk, psychedelic music DJ Athzira from Guatemala, psytrance producer Kabayun, Israeli progressive psychedelic trance project Out of Orbit, and Sao Paulo DJ Fernanda Pistelli, Yabba Dabba, psytrance DJ/producer Nikki S, and Vegas.
Morkorganisk, Ashwynz, Melbourne-based DJ/producer Ebony Willis, Sammy La Marca, DJ/producer and event curator Charbell are among the finest talents that will serve as the supporting acts for Zenith Gathering 2023!
Tickets for Zenith Gathering 2023 are available at The Ticket Fairy: HERE
Zenith Gathering on: Instagram
St. Jerome's Laneway Festival
When: February 3, 4, 9, 10, 11, 2024
Where: Brisbane, Sydney, Adelaide, Melbourne, and Perth
The St. Jerome's Laneway Festival will take place in the Australian cities of Brisbane, Sydney, Adelaide, Melbourne, and Perth next year. Stormzy, Steve Lacy, Dominic Fike, Nia Archives, Paris Texas, Raye, AJ Tracey, d4vd, Blondshell and more have been announced as part of Jerome's Laneway Festival's phase 1 line-up. This festival started in 2005 in Melbourne, Australia. As it got bigger and bigger, the St. Jerome's Laneway Festival reached other cities in Australia (Sydney, Perth, Brisbane, and Adelaide) and New Zealand.
St. Jerome's Laneway Festival: Website | Instagram
Subsonic Music Festival
When: December 8 – 10, 2023
Where: Riverwood Downs, Monkerai
Kick off the last month of the year in style by attending the Subsonic Music Festival! Australian rapper and musician Barkaa, one-man band Youngr, and alternative dance group Crooked Colours are set to headline the Subsonic Music Festival 2023, which will take place from December 8 – 10. Lunar Disco, Australian singer/ songwriter Kate Elsworth, French DJ/producer Nicolas Blistène, New Zealand-based music producer and performer Grouch, afro-electronic/producer trio True Vibe, Australian alternative dance electronic music group Haiku Hands, and MTV EMA winner JessB are on the roster.
DJ Rhinestone Cowgirl, 12-piece band Gambirra Mob, DJ Andy Garvey, Mood Swing & Chevy Bass, Doppel, DJ/producer and composer Mista Savona, DJ/cellist Wilma, and DJ/producer D-Sens are some of the acts that will head to Riverwood Downs in Monkerai, New South Wales, this December!
1st Release, Car Pass, and Early Entry/Thursday Camping tickets for Subsonic Music Festival are up for the grabs at The Ticket Fairy: HERE
Subsonic Music Festival on: Instagram
Bluesfest Byron Bay
When: March 28 – April 1, 2024
Where: Byron Bay, New South Wales
Bluesfest Byron Bay is the leading contemporary blues and roots music festival in Australia. This celebration of music began in 1990 and was held across the Easter long weekend. John Legend, Alabama Shakes, Bob Dylan, John Mayer, and Hozier are just some of the renowned artists who have played at Bluesfest Byron Bay. It hosts about 200 performances, attracts 100,000 visitors and provides camping for 6,000 attendees.
Bluesfest Byron Bay features hundreds of food and market stalls, beer gardens, food courts, five licensed bars, and something for the whole family! Jack Johnson, blues rock band The Teskey Brothers, L.A.B, guitarist Tommy Emmanuel, and indie rock folk rock band The Paper Kites will hit the Bluesfest Byron Bay stage for the 35th anniversary of the festival next year. Tom Jones, singer-songwriter Matt Corby, Elvis Costello & The Imposters, folk-bluegrass musical ensemble The Dead South, and rock band Drive-By Truckers have also been announced as part of the phase one line-up of the festival.
Bluesfest Byron Bay on: Website | Instagram
Woodford Folk Festival
When: December 27, 2023 – January 1, 2024
Where: Woodford, Queensland
Thousands of local, national and international artists, presenters, performers, and musicians flock to the Woodford Folk Festival every December. For 2023, the Woodford Folk Festival will run from December 27 to New Year's Day. It begins with an epic Opening Ceremony and sees more than 400 acts take the stage. The Woodford Folk Festival, which concludes with the Fire Event on January 1, draws about 132,000 visitors.
The Woodford Folk Festival also features film festivals, debates, folk medicine, an environmental program, workshops, and much more! There is also a street theatre, children's festival, circus performances, dance, arts and crafts workshops, comedy sessions, late night cabarets, writers' panels, and parades at the festival.
Woodford Folk Festival: Website | Instagram
Lost Paradise
When: December 28, 2023 – January 1, 2024
Where: Glenworth Valley (Darkinjung Country, Central Coast), New South Wales
Lost Paradise is an annual festival held at the end of the year. It is scheduled to be held from December 28 to January 1, with Australian house music producer Dom Dolla, British rock band Foals, and Flume as the headliners, along with Carl Cox's Hybrid Set and Bicep's DJ Set at Lost Paradise 2023.
The Jungle Giants, pop rock group Lime Cordiale, Channel Tres, dance music trio Pnau, Welsh electronic duo Overmono, and Kelis have also been booked to perform at this festival. Also catch Scottish producer-duo LF System, Jayda G, LA-based DJ/producer Cassian, Yung Singh, and DJ Heartstring as well as a DJ Set from English electronic music duo Basement Jaxx at the 2023 edition of Lost Paradise.
Lost Paradise: Website | Instagram
You May Also Like:
Music Festivals to Attend in New Zealand this Summer 2023-24
5 Unique Locations That Host Music Festivals
Biggest Music Festivals In Asia You Don't Want To Miss