Generations - Vallejo's Filipino American History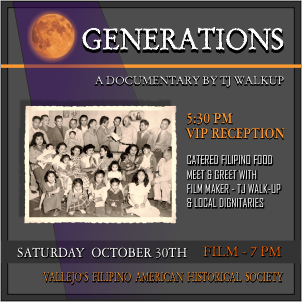 . Empress Theatre , Vallejo [Ages 18+]
Generations is a feature-length documentary film about the unique Filipino-American immigrant story in the San Francisco Bay Area city of Vallejo, California. Vallejo's prominent military base on Mare Island drew many Filipino to Vallejo. Their legacy and societal impact have continued to this day.
In partnership with the Filipino American National Historic Society Vallejo Chapter and with grant funding from the City of Vallejo and the Vallejo Community Arts Foundation.
Based on the book Filipinos in Vallejo by Mel Orpilla, the film's narrator.
Guidelines for Empress Lounge and Empress Theatre
All patrons attending a performance in the Lounge or Theatre must show proof of vaccination and a government-issued photo ID. Solano County and / or the City of Vallejo also require a mask be worn at all indoor events. Thank you for your cooperation. We want to ensure the safety of all our patrons and staff.