Billed as the 'NZ's hottest winter festival', we take look at the forthcoming Queenstown Mardi Gras festival ticketed by Ticket Fairy on June 25, 2022. In New Zealand, this year's Mardi Gras takes place over two weekends in different cities. The first show was held at Ohakune on June 18. The three-day festival in Queenstown begins with a series of warm-up parties at The World Bar and Restaurant on June 23 and 24, 2022.
Queenstown Mardi Gras will take place on June 25, Saturday, at the scenic Queenstown Polo Grounds. The Queenstown Polo Grounds is a fifteen-minute drive from Queenstown International Airport and features two international-sized polo fields, a training track, and facilities for over 100 horses and ponies. This location hosts private events such as music concerts, business functions, cocktail receptions, birthday parties, charity events, and weddings, in addition to polo tournaments.
Audiology, a company that specializes in electronic music shows and produces nearly 200 events each year, presents Queenstown Mardi Gras. The stellar lineup revealed earlier this year includes both local and international Drum & Bass, dance, and electronic artists. Delta Heavy from the United Kingdom, Luude and Hot Dub Time Machine from Australia, DJ 12th Planet from the United States, and Canada's DJ Bensley are among the acts listed.
DJs and music producers Matrix and Futurebound, Drum & Bass radio DJ Chiccoreli, John "DJ Keeno" Huang, music producer Maduk, musician Pauline Herr, and dubstep and EDM artist Jesse Cooper, better known as Mt Eden, are also scheduled to perform.
Tom Lowndes, aka Hot Dub Time Machine, makes his first overseas appearance since 2020. This is also his first festival in New Zealand. In between festival dates, he will have his debut performance in Auckland at The Studio Venue.
Via Instagram, DJ Bensley shared a post after his performance at Ohakune saying "Mardi Gras Ohakune was unbelievable! it's so good to be back in New Zealand ?? can't wait to do it all again this weekend."
DJ, designer, and promoter Beccie B, DJ Button B, D&B aficionado DJ Elipsa, DJ Ponz, DJ Foxtrot, DJ duo So&So, and DND duo REPAIR are among the local New Zealand talent announced for the event.
Ponz, a New Zealand-born Drum & Bass Vocalist, DJ, and MC, commented on her upcoming performance via Instagram, saying "After a couple of months off I am beyond excited for my first gig announcement since we went into red! This one's a massive milestone and I can't wait to get behind the decks and mic again and have a big party w you all ??."
DJ Elipsa expressed gratitude for the event in Ohakune on Instagram, and indicated excitement for Queenstown saying, "Ohakune Mardi Gras you lil beauty ? I honestly had no idea how epic that stage was until I saw the pics and clips. Feeling so bluddy lucky to be experiencing this magical life. And for my Queenstown Mardi Gras peeps, I'm playing Main Stage at 1:45 pm ?see you soon!!!"
Afterparties are staged at The World Bar and the food, beverage, and entertainment establishment will be at Yonder in Queenstown following the festival.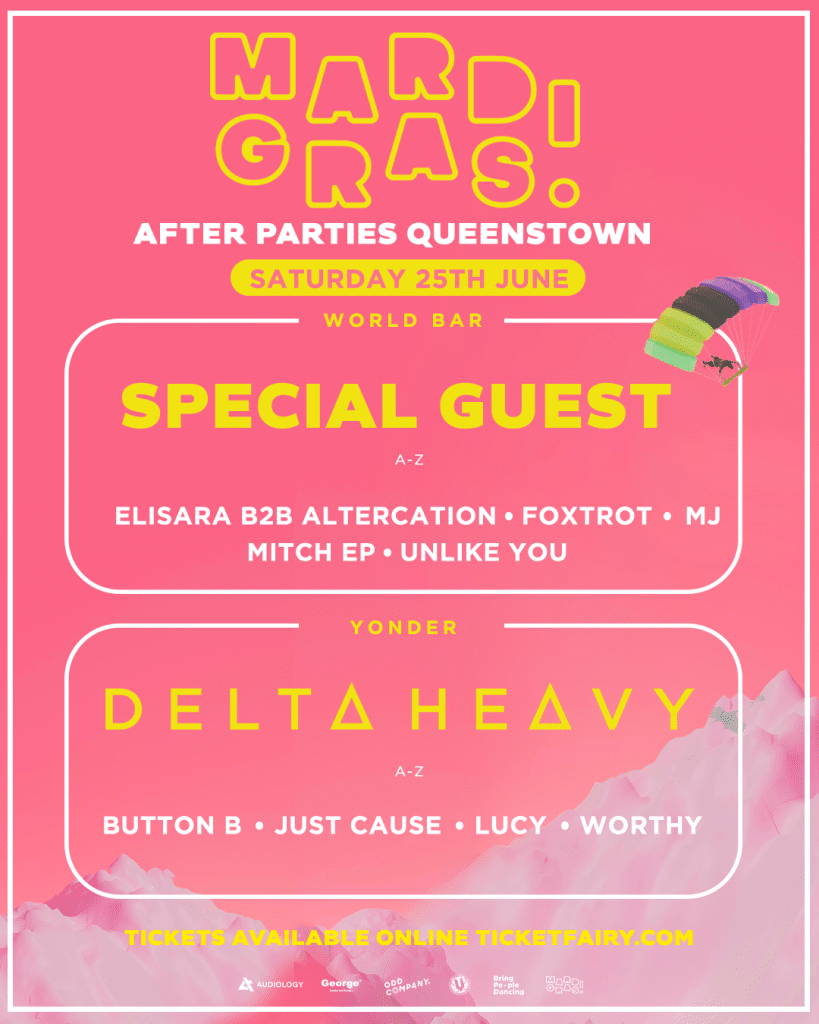 Audiology has also collaborated with MSFT Productions, a production house, merchandise, and events company based in Hastings, New Zealand, on an apparel line that will serve as official festival merchandise this year. Exclusively at the Ohakune and Queenstown festivals is the limited-edition clothing collection available. The clothing, like the brand's online assortment, is likely to contain hoodies, t-shirts, beanies, and hats.
If the festival is canceled due to weather, like it was in 2021, a backup date of October 8, 2022 has been set. Despite the producer's best efforts, the site damage caused by days of nonstop rain was too severe for the show to take place at Warren Park. Regardless, this appears exceedingly unlikely to occur this year.
Ticket Fairy has been the official ticketing partner for the Queenstown and Ohakune Mardi Gras festivals since 2018. Tickets for this years main Mardi Gras festival is sold out!
Get you tickets for the Queenstown Mardi Gras 2022 – Afterparties HERE
Tickets for Queenstown Mardi Gras 2022 – Warm Up Parties HERE
Follow the Mardi Gras NZ concert tour on Instagram HERE
Follow The World Bar on Instagram HERE, and visit its official website by clicking HERE
You May Also Like: