Presented by Bristol's Damballah events company, this extravaganza will bring together veterans of the scene for five non-stop hours of DnB's best. Slated to take place on June 9, 2023, 9 PM onwards, at Bristol's brand new and quick-rising Clock Factory events space, tickets to this party can be purchased via Headfirst Bristol HERE.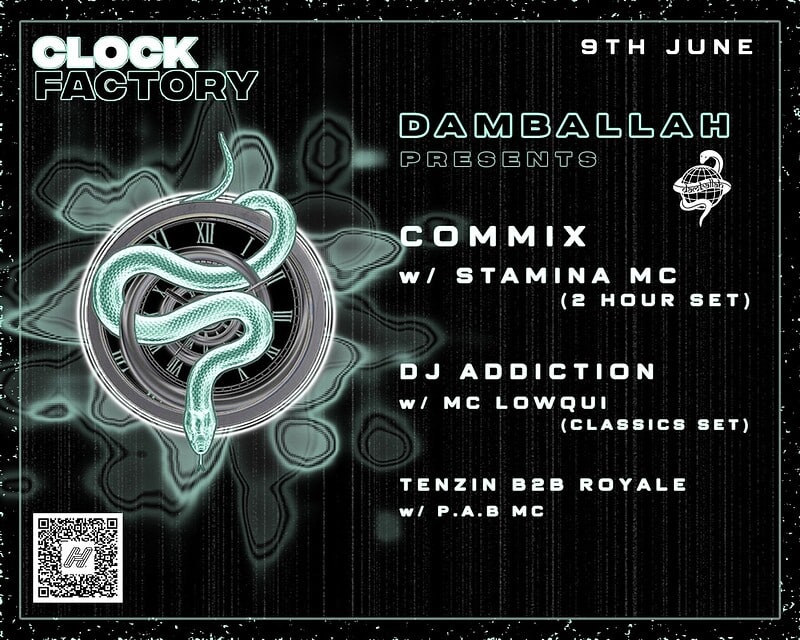 Damballah Presents Commix, Stamina MC, DJ Addiction, MC LowQui.. is a strictly 18+ event. The venue, Clock Factory, doubling as a practice space-by-day and party venue by-night, packs a state-of-the-art lighting and sound system, an adaptable stage and a full hospitality bar set-up. On the roster are seven stellar acts, with Commix kicking things off with Stamina MC for a two hour set. This will be followed by a Classics set by DJ Addiction and MC LowQui, and rounding up the night will be Tenzin B2B Royale with P.A.B MC on hosting duties.
About the Artists
Commix, the now-solo project of George Levings, is a drum & bass act of whopping proportions. Having been on the scene since 2002, Commix boasts forty singles, two albums and upwards of fifteen remixes. Commix is a frequenter at some of the UK's top nightclubs, such as fabric, The Cambridge Junction and the closed-down but highly revered The End nightclub.
Stamina MC made his earliest movements in the DnB scene during 1996, MCing on pirate radio. Since then, the UK-based rapper/MC has built an illustrious career, becoming known best for the chart-topping tracks DJ Marky and XRS Land's 'LK' (2002) and D. Kay and Epsilon's 'Barcelona' (2003). Currently, Stamina MC continues to tour with DJ Marky, with a most recent performance with Shy FX and involvement in Digital Soundboy projects.
Dance/electronic DJ/producer DJ Addiction (aka Jason Foreman), has been a scene superpower since the early 90s, DJing across the world during what is considered the 'golden era' of drum & bass music. Alongside his regular collaborator, Carlito, DJ Addiction has had releases on some of the UK's best labels, from Moving Shadows to Hospital Records, whilst also having been a resident at clubs like Speed, Swerve, Movement and fabric.
MC LowQui, a frequent face at Metalheadz, Dubplate Style and Hospitality events, will MC alongside DJ Addiction at this Damballah party. MC LowQui is well-known in the DnB scene, having toured with Goldie, DJ Marky, Black Sun Empire, and many more, and with vocals on several chart-topping tracks. This year, LowQui will grace stages across the UK and Europe for performances at top festivals and venues such as Tomorrowland, Hospitality Records' HOTB and the UK's Big Love Festival, during August alone.
Also on the roster are Clock Factory resident DJs Tenzin and Royale slated to play a B2B set, with up-and-coming host, P.A.B MC. The event is powered by the UK's Void Acoustics and Georgia USA's Danley Sound Labs.
Get tickets to Damballah Presents: Commix, Stamina MC, DJ Addiction, MC LowQui… HERE
Find the artists performing at this event online: Commix | Stamina MC | DJ Addiction | MC LowQui
You May Also Like: