A beacon of the underground set in London's historical Charterhouse Street, fabric London is not just UK's most-treasured venue, but the world's.
For fabric London frequenters, it is hard to imagine a world without the iconic nightclub. Since 1999, fabric has prided itself on its cut-throat approach to programming, a path paved for underground club culture to follow for years to come. What began as the ambitious brainchild of co-founders Keith Reilly and Cameron Leslie, the idea being to have a safe and conducive place for live electronic music to thrive, quickly rose to the ranks of legend status. It is easy to see why.
How fabric London came to be
fabric London's, success wasn't achieved overnight. The club was Keith Reilly's revolt against the direction UK's club culture had begun steering towards during the 90s. In an interview with Red Bull, Reilly recalls his exact thoughts, stating, "All of a sudden, venues were more interested in what shoes and shirt you were wearing than music policy. It was heartbreaking to me." Now renowned in the global club scene as one of the select few pioneers of unfiltered, raw club culture, Reilly goes on to note his decision to sell his properties and possessions to embark on a seven-year-long hunt for the perfect venue. The golden find was a former meat-packing warehouse on Charterhouse Street in Farringdon, which was, at the time, populated mainly by cold storage units. Alongside co-founder Cameron Leslie, Reilly actualized what had become an amalgamation of the pair's shared visions, and on October 29, 1999, London's most iconic club opened its doors to patrons for the very first time.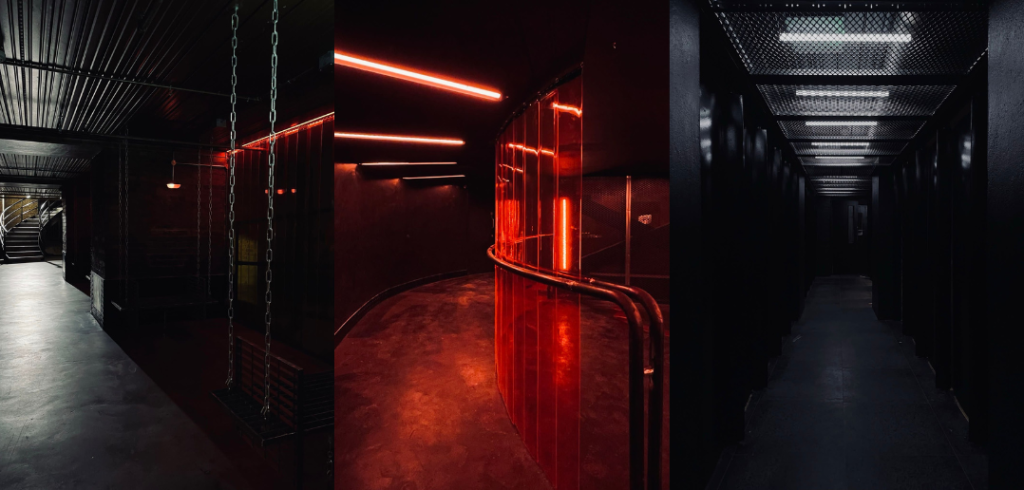 fabric London's rise has not been without hiccup, but the co-founders and their tightly-knit team maintained their drive to stick to quality over quantity. Programming was not out to target bigger artists, they went for smaller talented powerhouses, beliefs cemented towards only putting the best out. This was an application that oversaw fabric's dailies as well, making it so that every night was an experience truly like no other. And with 25,000 square feet of room surrounded with a world-class sound system, packing about 2000 heads, word spread like wildfire, making fabric the place to be for those that wanted an unparalleled experience of the underground music scene. And then quickly placing fabric amongst the very pillars of the scene.
The fabric London Building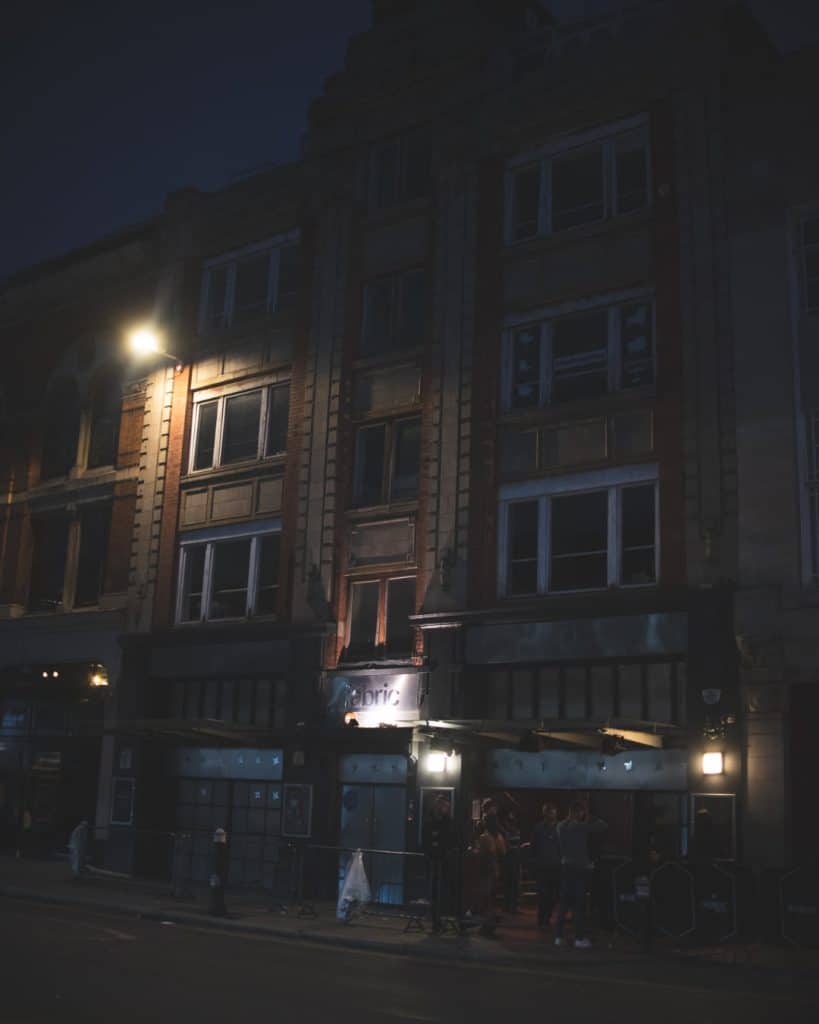 The fabric London building is massive, consisting of 3 separate rooms that host their own parties. While patrons frequently praise the size of the venue, packed with plenty of room to move around, the real highlight of the venue is Room One of the three rooms. The floors in Room One have been equipped with a 'bodysonic' vibrating dancefloor, with sections of the floor attached to a whopping 400 bass transducers emitting bass frequencies that sync to the music being played.
Each of the three spaces feels like its own ecosystem; patrons report no noise leaks, and ample space to sit during dance breaks, with special praise for the air conditioning. Another noteworthy highlight at fabric are the unlimited cold water stations, dispensing free of cost at multiple spots in the venue. This can also be availed at the bar, which seldom sees queuing. Most patrons commend fabric London's queue management regularly, with no crowding at their unisex bathrooms or the £2-per-item cloakroom, a necessary and brilliantly-managed issue that is common at most, if not all, venues across the world.
Following two drug-related tragedies in 2016, fabric London was made to shut down. Frequenters, artists and public personalities were quick to come to the club's aid, motioning it towards the end of a six-month close down. The reopening saw much stricter security and screening protocols put in place, which admittedly gets some pushback from attendees. However, as fabric London's demand continues to skyrocket, security is bound to get tighter. The club aims to keep all its patrons safe during their time at fabric, and continues to uphold their strict standards despite grief from those that find the new policies unfavorable.
What You Need To Know For Your Visit To fabric, London
fabric London is strictly 19+ and operates Friday through Sunday, from 11 PM onwards into early morning hours. Parties have come to a close at anywhere between 5 AM and 7 AM, which is an experience patrons often recall fondly. The nightclub feels like its own microcosm, so to emerge into an early London morning fresh off a high octane event, looking for a good breakfast joint to hunker down at – this is one of many of fabric's many experiential offerings.
The venue does not serve food, and alcohol prices are reportedly on the higher side. With a pint of beer priced at around £5, patrons prefer not to empty their pockets at the bar, instead choosing to indulge in the events instead. Attendees come in from across the world, but on average, fabric's mainstay attendance prioritizes the party over the puff-pieces. fabric's official website states, "fabric is not a place to come to if you are 'on the pull'. If you do come in and you are approaching multiple people, you are going to attract the attention of our security, who have been instructed to stop this kind of behaviour." The club has a strict policy against any kind of discrimination, and strictly notes its "zero tolerance policy to racism, homophobia, transphobia, sexism, ageism and any form of discrimination whatsoever, and all of our events operate under our Safer Space Policy. "
fabric also urges patrons to leave their cell phones at home. Rather creatively iterated, the website offers a separate section about 'Phone Safety,' a campaign by fabric that started during October 2012 following a 400% spike in phone theft in the area. fabric also discourages filming at the venue, keeping the experience purely live and rarely online. Expect any pictures from the night to be taken by the venue's official photographer(s), in a series of wide-shots and epic close-ups. Leave the rest, and perhaps the best, to your memory.
There is a dress-as-you'd-like policy at fabric as well. The club upholds itself to be a place for those that are truly in love with London's underground clubbing scene, so expect to see patrons dressed up or dressed down, although the former is discouraged. Their entry policy states, "If you'd like to check if a particular item of clothing is permitted, please call the office between 10am-7pm. And yes, you can wear shorts in the club. We do not allow fancy dress, business suits, team colours or any day glow wear." This is part of fabric's efforts to encourage the culture without leveraging aspects that could cause unwanted segregation.
And, of course, the club has a zero-tolerance policy to any drug-related activity, and assures a lifetime ban against those in violation.
Events at fabric London
For the three nights dedicated to parties at fabric, each day is reserved for a meticulously curated weekly event. Friday nights see the club's 'FABRICLIVE' come to life, featuring exclusive bass music programming. Drum & bass has been a mainstay during FABRICLIVE since the genre's inception, with the occasional grime, breakbeat, dubstep and bassline.
Saturdays are reserved for 'Fabric', featuring house, techno and disco, with fabric's resident DJs Craig Richards and Terry Francis usually at the helm. Sundays at fabric, since 2009, have been for their 'Wetyourself' weekly event, a polysexual party that celebrates fabric's cultural identity, and boasts a line-up to match.
fabric also hosts private parties and events, and has featured renowned companies such as independent global fashion house Vivienne Westwood, Nike, and Goldman Sachs. More recently, the venue launched a 24+ hour live set event titled 'Continuum,' slated for its first event on October 15, 2022, with five events slotted until March 11, 2023. The parties will begin on Saturdays at 11 PM and will close on Sundays at 12 AM.
For fabric frequenters, the club offers a membership plan called 'fabricfirst' that allows patrons to avail discounted tickets and priority entry, along with access to fabric's exclusive quarterly mixes.
Most notably, fabric has featured some of the scenes most revered talents, including house & techno icons Carl Cox, Ricardo Villalobos, Seth Troxler, Four Tet, Amelie Lens, Nina Kraviz, Daniel Avery, Boys Noize, Kölsch, Daphni, My Nu Leng, Jackmaster, and A-Trak, along with British dancehall DJ David Rodigan, and downtempo & electronica giant Bonobo.
D&B and jungle are in no shortage, with names like Chase & Status, Goldie, Grooverider, Fabio, Andy C & DJ Hype, Noisia, Kasra, Calibre, Calyx & Teebee, Skream, Mefjus, J Majik, Ed Rush & Optical, Sherelle, and High Contrast having delivered high-power performances at fabric; 2-step and garage enthusiasts have bore witness to legendary sets from Bugz in the Attic, and DJ EZ; and British leftfield musician Special Request as part of the club's 'fabric presents SHERELLE' event in 2021.
The Fabric & FABRICLIVE CD Series and The Houndstooth Record Label
During November 2001, fabric launched a CD series under Fabric Records, featuring up & coming and renowned names in the underground scene. The series rotated monthly between Fabric and FABRICLIVE, hitting its 100th instalment during November 2018, bringing it to a close. During its 17-year-long runtime, the CD series featured some of the most notable artists on the scene, from the club's own resident DJs Richards and Francis, to electronic music icons John Digweed and Carl Craig during the year 2005.
Then, in January 2019, fabric announced a revamped quarterly mix series titled 'fabric presents,' an inaugural mix of which debuted the very next month, compiled by electronic musician Bonobo. 'fabric presents' continues to put out compilations under Fabric Records since 2019. September 2022 saw the launch of fabric's newest record label, 'fabric Originals.'
The nightclub also launched Houndstooth Records in 2013, run by Rob Butterworth (of fabric's 'FABRICLIVE' and 'Fabric' CD series) and Rob Booth (of the Electronic Explorations podcast). Houndstooth has a mighty roster of 30+ artists, including Switzerland-born electronic musician Aïsha Devi, UK-based DJ & musicians Call Super and Pariah, and British musical group Snow Ghosts. The label strives to facilitate artists in the scene in true fabric fashion
As of 2022, London's iconic underground nightclub sits comfortably at the 13th spot on DJ Mag's 2022 list of the Top 100 Clubs – its highest high being two years in a row, when fabric held the Number 1 spot for the world's best clubs in both 2007 and 2008, receding to Number 2 for both 2009 and 2010. The venue also made a cameo in the first season of BBC America's Killing Eve, fashioned as a Berlin-based nightclub.
For lovers of all things underground and patrons of the arts, fabric London is a must-not-miss. A deserving occupier on many individuals' bucket lists, the venue continues to be a mainstay in the global electronic music scene since its opening in 1999. Meticulous care for not just the event programming, but the experience itself, has cemented fabric as not just a main-player in current times, but one that will go down in history as a foundational part of the ever-evolving dance music universe.
Visit the fabric London website HERE
Find fabric London online:
Instagram | Facebook | YouTube | Twitter | SoundCloud
You May Also Like: