In Seminyak, you can dine at the chic restaurants and beach clubs during the day while enjoying the stunning scenery, and experience the rich nightlife of the city after the sun sets. Seminyak, Bali, offers the best late-night party experience at its fascinating venues and sensational clubs that feature a vibrant atmosphere, great music, delicious food, and captivating decor. From buzzing hotspots to a chill dining experience, here are some restaurants, bars, and clubs you can visit if you're in Seminyak.
Potato Head Beach Club
Potato Head Beach Club is where you want to be for a complete party experience! This luxurious beachfront venue is also lauded for its sustainable practices and art, apart from its music, architecture, design, and overall unique experience. Featuring three restaurants, bars, a lawn, and an infinity pool, you will need an entire day to fully enjoy your time at Potato Head Beach Club. Get delicious seafood dishes made from the archipelago's freshest produce at Ijen.
Indonesian food, prepared from Indonesian ingredients using indigenous cooking techniques and consisting of Indonesian flavors, is available at Kaum. Potato Head's rooftop bar called Sunset Park will offer you a panoramic view of the Indian Ocean, lovely cocktails, bites to munch on, and a place to have get-togethers. At Tanaman, the venue's plant-based restaurant, they make sure nothing is wasted and you can also learn more about the dish at the Chef's Table!
For a more chill vibe, you can dine at the Katamama Restaurant to relish the labneh, koji roasted chicken, squid ink tagliolini, berries and cream cheesecake, and more. Besides serving unforgettable drinks, their open-air cocktail bar Akademi also hosts cocktail masterclasses with their Head Mixologist with an IDR 350,000 per person registration fee. Potato Head also boasts three spaces for music – Studio Eksotika, Amphitheatre, and Headstream, and they often host DJs, musicians, and live performances.
You May Also Read: Sustainability, Luxury & Wellness at Desa Potato Head Beach Club
Red Ruby Club
From live blues and jazz bands to dance shows and DJs setting the dancefloor ablaze, Red Ruby Club will keep you entertained through the night. It draws inspiration from clubs in Ibiza, Amsterdam, Barcelona, and Berlin. You can find flavorsome dishes and a wonderful collection of cocktails on their outdoor terrace. Red Ruby is for your late-night visit! It opens at 11 PM and closes at 6 AM. You know where to go when you're looking for a wild party!
Mirror Lounge & Bar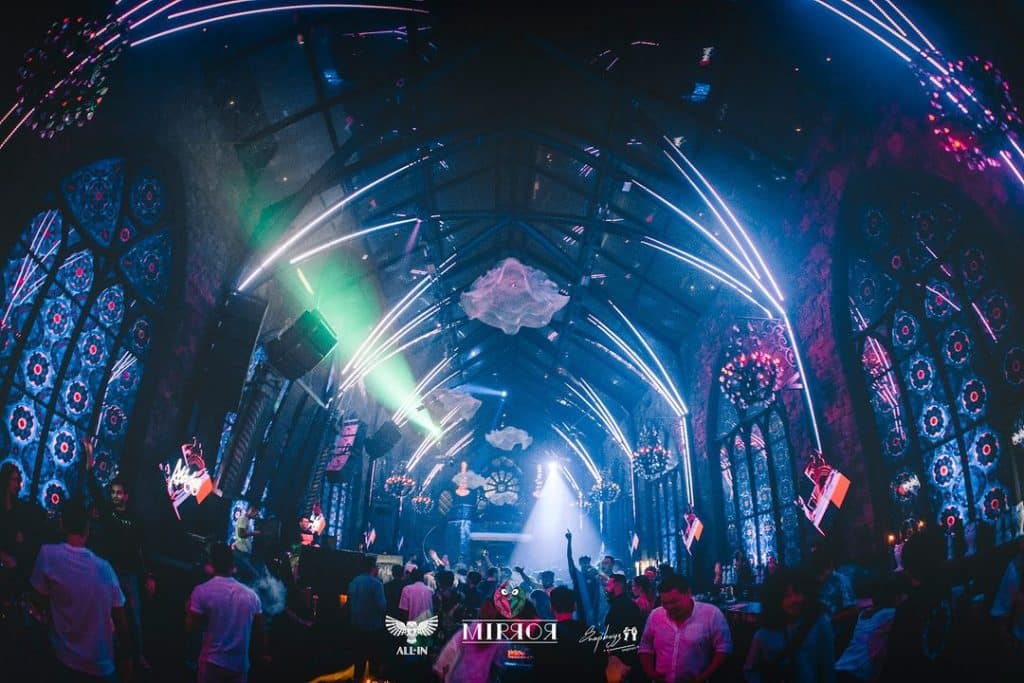 Quench your thirst in style at the Mirror Lounge & Bar in Seminyak! Featuring gothic architecture, stained glass windows, and neon lasers, Mirror offers an immersive experience like no other. From dancehall and Latin beats to house and EDM, your feet won't stop moving to the music!
This luxe venue also has arches and stone sculptures and is the perfect place to party all night until the wee hours. There are VVIP sofas on the mezzanine where you can enjoy great views of the venue, with its decor, lights and design resembling the inside of a cathedral.
Revolver Espresso
Who doesn't like to visit cafes? And what better way to begin your day than with a perfect cup of coffee? In addition to serving some of the best coffee in Bali, Revolver Espresso also offers a great selection of wine, champagne, spirits, craft beer, cocktails, and more.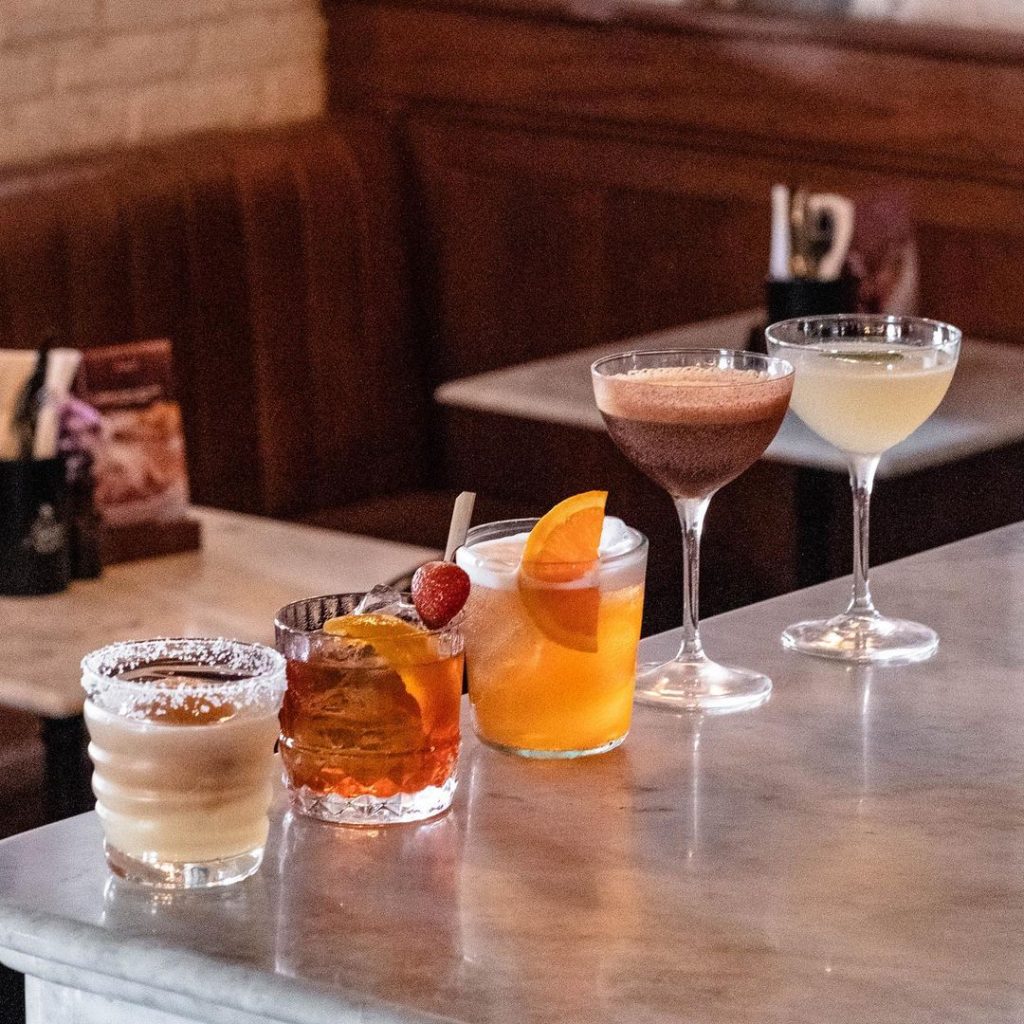 You can also grab breakfast, salads, or desserts at Revolver Espresso. Nasi Goreng, Waffle Fries, Kimchi Arancini, Revs Reuben are among the varieties of food available here. Started in 2012 as a coffee shop, Revolver Espresso has grown into a bigger business with merch, Baby Revs, and an apparel label Revs X Revolver. Apart from Seminyak, they also have cafes, restaurants, and bars in Bali Airport locations and Canggu.
Mrs Sippy Bali
Mrs Sippy, a beach club in Bali, boasts the biggest saltwater lagoon-style pool on the island! In the daytime, you can lounge on the daybeds available on a first-come, first-served basis, or you can also reserve them. Soak in the sun by the pool, watch your family and friends have a great time, and spend some quality time with your loved ones. Mrs Sippy also has swim up bars! You can get poolside classics like spicy wings, dips and bread, pulled pork tacos, or burgers and pizzas, as well as signature cocktails, spirits, and slushies.
Catch international DJs spinning tropical music, hop off the diving platforms, and enjoy cocktails under the stars at this Mediterranean-inspired oasis. Gear up for pool parties by evening and get ready to dance under the stars alongside headlining acts. There is a 3-hour happy hour at Mrs Sippy every Thursday!
KU DE TA
Step into the world of sunsets, remarkable service, delectable food, and an experience you'll never forget at KU DE TA. This venue has been welcoming guests for two decades. Take a breather and appreciate the finer things in life at this Seminyak Restaurant, Bar, and Beach Club. Relax on the daybeds a few meters away from the beach and listen to their soulful soundtracks while enjoying KU DE TA's award-winning wines, beers, and spirits.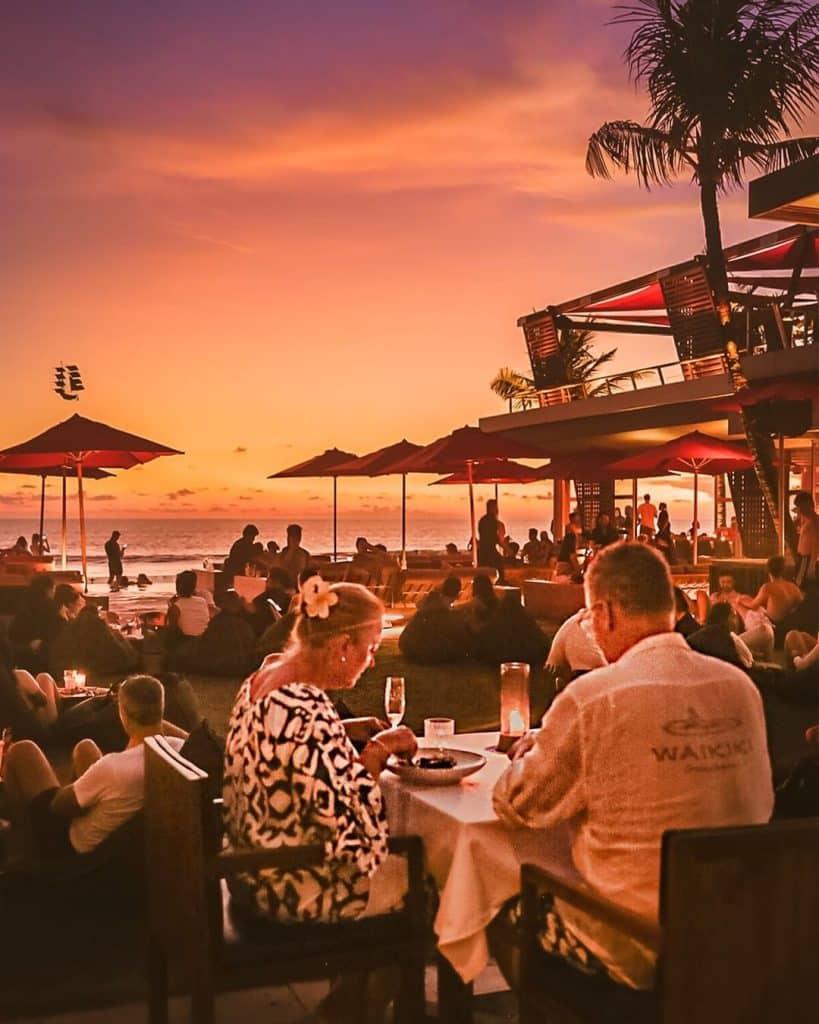 Some of the most celebrated DJs, including the legendary Carl Cox, have graced their stage in Seminyak. Sunset Sessions begin at 4:30 PM every day with tracks curated by international resident DJs. Don't miss Family Sundays! You can enjoy different activities with your kids, like face painting, attending workshops, doing arts and crafts, and more! You may also try Ku's fire-roasted octopus, watermelon mint martini, chorizo seco in cabernet, and more.
MoonLite Kitchen & Bar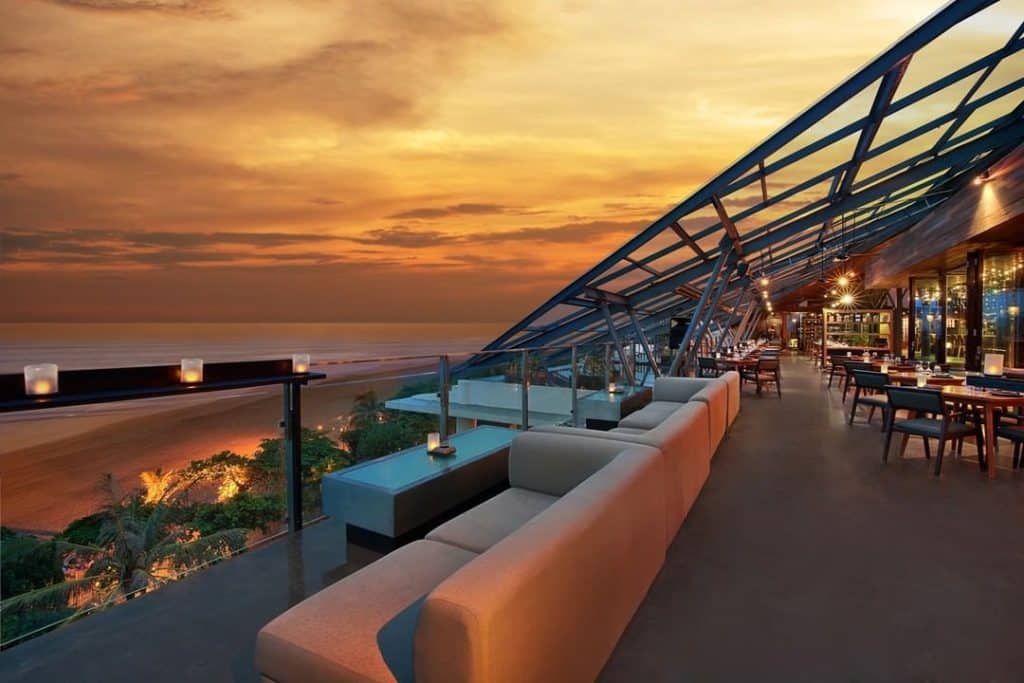 Looking for an Asian restaurant with jaw-dropping views? MoonLite Kitchen & Bar is a must-visit spot for you! You can kick off your morning with a delicious breakfast buffet with live cooking stations. Enjoy the freshly baked pastries, breakfast burritos and tropical fruits before heading out to the beach! The mouth-watering dishes featuring flavors from all around Asia, cocktails, and grooviest tunes from DJs will make a perfect ending to your night.
La Favela
Started about a decade ago, La Favela has become a party hotspot in Seminyak! Its design is influenced by the jungles of Bali and Indonesia, as well as the favelas of Rio and the underground bars and clubs of London and New York in the early 90s. La Favela also has artificial rainfall and ponds in their semi-garden with alfresco chairs and tables. Its exquisite design entices attendees and provides an unforgettable and unique dining and party experience.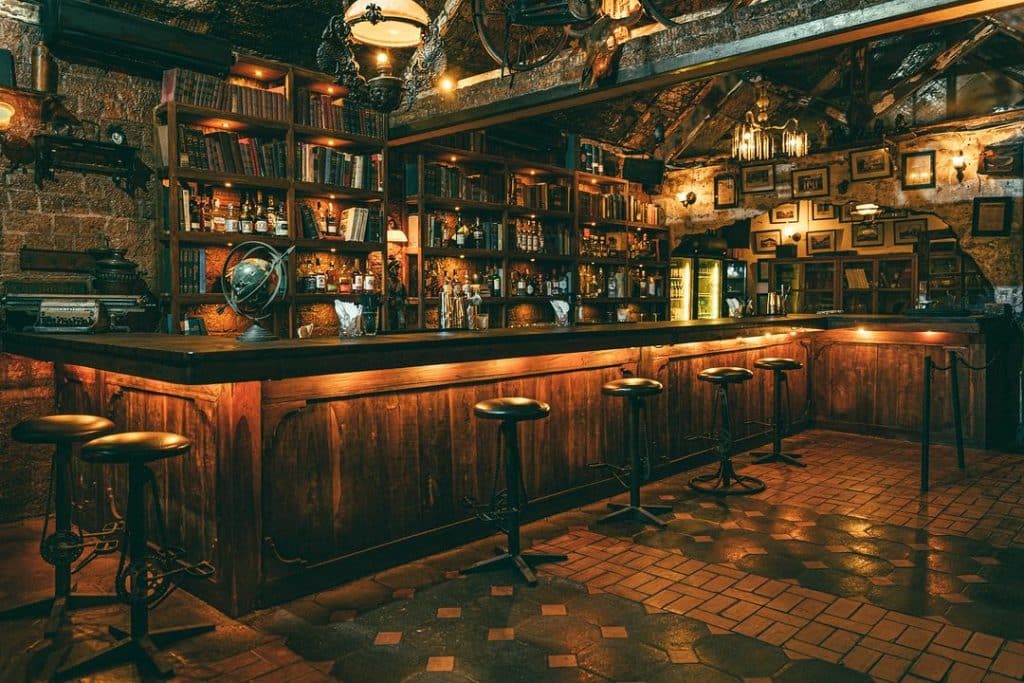 Their menu also features tapas, steak, and tacos. They also host private events such as birthdays, bachelor and bachelorette soirees, meetings, functions, and more on the third floor of La Favela called Attika Private Room. This space can house 250 people and lets you enjoy private butler service.
The Orchard
One of the best places to get the traditional Sunday Roast in Bali is The Orchard Bar & Restaurant. Offering a laid-back vibe, this venue feels comfortable and also hosts live music events. The gastropub is worth your visit if you're also searching for the taste of home! From folk to rock and roll and reggae, catch some of the finest talents take The Orchard stage.
Woobar Bali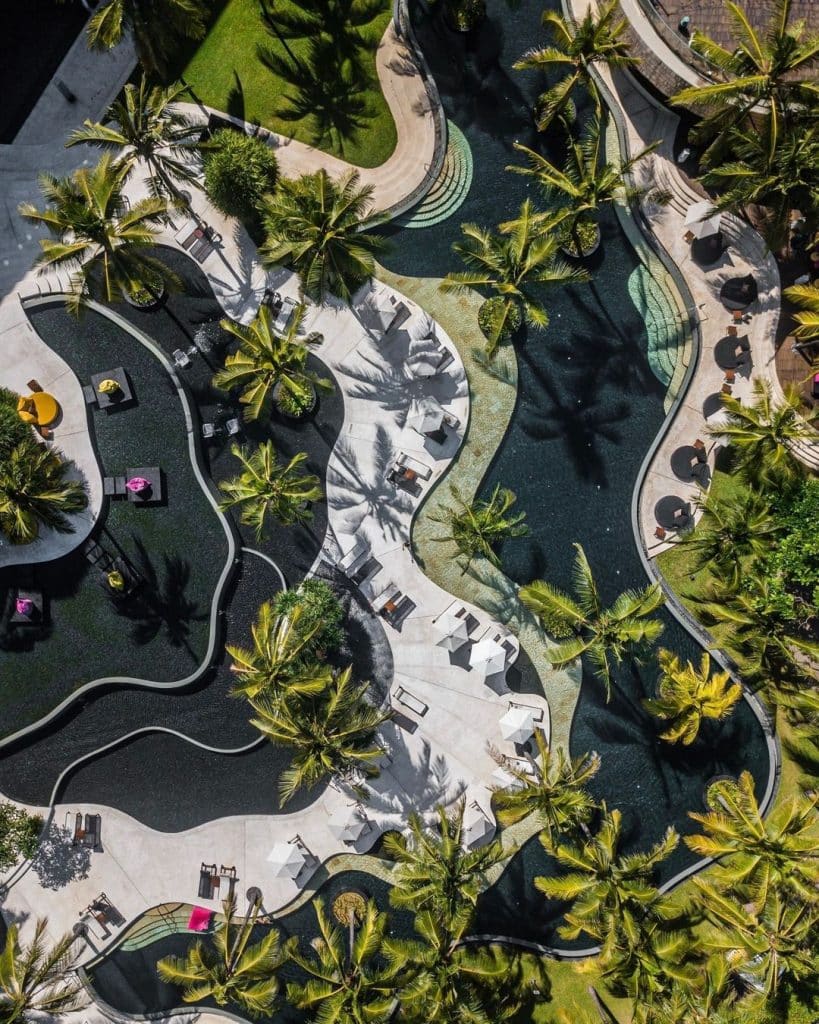 WooBar is a laid-back beach club by day where you can relax, take in the views of the ocean as well as the pool, and by night, it turns into one of the most spectacular spaces for partygoers! It is lively and guaranteed to instantly elevate your mood.
From techno to disco, you'll be swaying to the music until late at night! Lounge on sun decks and buy 1 get 1 free drink on Mondays from 7 PM – 9 PM. Enjoy the views of WooBar from atop the club while sipping on the finest drinks, including their special zero-waste cocktails.
You May Also Like:
Best Beach Clubs You Can Go to in Bali
10 Unique Things to Do in Bali
Top Live Music Venues in Bali You Need to Visit